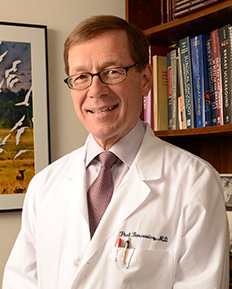 Paul A. Barcewicz M.D., FACS is a member of the Society for Surgical Oncology, the New England Surgical Society, and the American Society of Breast Surgeons and has completed advanced courses in breast ultrasound. He has been a part of Surgical Associates of New Haven since 1984. A skilled laparoscopic surgeon, Dr. Barcewicz has a particular interest in cancer therapy and is an expert in the treatment of soft tissue tumors. He is also skilled in endoscopy of the upper GI tract (stomach) and of the colon (colonoscopy).
Dr. Barcewicz enjoys making an impact on his patients' lives and knows there is more to a patient than their symptoms. Every patient is different, and reacts differently. He recognizes the power of the connection between mind and body, and believes that a patient's feelings and reactions can impact their medical condition.
Dr. Barcewicz has office hours in New Haven and in Madison.
Advanced Certification
American College of Surgeons, Fellow
American Board of Surgery, Certified
State of Connecticut, Licensed
Education
Undergraduate:
B.A.
The College of the Holy Cross
Worcester, Massachusetts
Medical:
M.D.
University of Rochester
School of Medicine and Dentistry
Rochester, New York
Postgraduate Medical:
Hartford Hospital
University of Connecticut
Department of Surgery
Intern
Assistant Surgical Resident
Chief Resident
Fellowship:
Roswell Park Cancer Center
Department of Surgical Oncology
Surgical Oncology and Endoscopy
Hospital Appointments
Attending – Surgery
Yale New Haven Hospital
York Street Campus
Smilow Cancer Hospital
St. Raphael's Campus
New Haven, Connecticut
Academic Appointments
Assistant Clinical Professor of Surgery
Yale School of Medicine
New Haven, Connecticut